Soap making and gender awareness training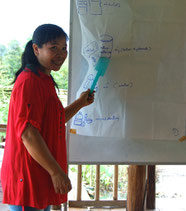 This month saw three women from the local community head off for training in how to make soap in Vientiane, as well as Gender Awareness in Savannakhet.
Those who know Memai, her enthusiasm and dedication, will know what a great manager she will be for this project. She thoroughly enjoyed learning how to make the soap and learning all about gender equality and the rights of women. They are all eager to share their knowledge with others and to undertake further training. Next up is accounting, business management and marketing as well as starting to plan the workshop building. Read more about our soap project here.