Our four scholarship students started their studies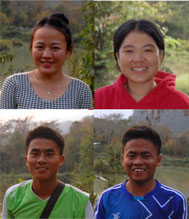 We are incredibly proud of our four scholarship students Mai, Poona, Mor Yang and Yang Lue Yang, who have now started at four different Universities. They are all very excited, very grateful and a little bit daunted. We will of course be following up on their progress and letting everybody know how they are doing. Find the profiles of each young adult who just started University with the help of SAE LAO here.
As happy as we are, we still need more funding to ensure these students and students for next year have anough to see them to the end of their studies. Please help us raise the final money needed.