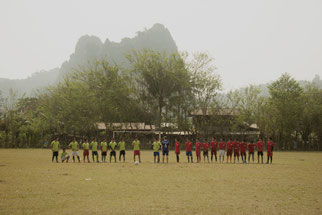 The two SAE LAO football tournaments finished out in May with great success. The nine teams involved overall worked hard these past five months to prepare and follow through with the practices and games, despite the heat and rain.
Special thanks to the team captains who organized their peers, sometimes all of which who were very new to engaging in the sport formally. They did this all without coaches and in the end, no matter the outcome, experienced a great sense of achievement.
All the more, it was a TON of fun and we cannot wait for next year!
Congratulations to the winning teams of the two tournaments, Sportswomen and Sportsmen (both from Nasom).