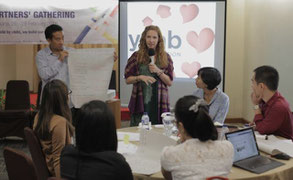 In February Sengkeo and Claire (founder and education coordinator of SAE LAO Project) travelled to Jakarta, Indonesia to participate in YCAB Foundation's 1st Partners' Gathering.
YCAB Foundation is the first Indonesian NGO turned social enterprise, focusing on development and economic empowerment. The purpose of the gathering was to come together with all of YCAB's program partners in the country and throughout ASEAN, for three days of events, workshops, and networking. This was a time for different organisations to share their experiences, thoughts, and ideas on how to maximize impact in the youth development area. 
YCAB partnered with SAE LAO in September 2015 with a focus on SAE LAO's education programs, which primarily support the local youth. YCAB shares the vision of SAE LAO in empowering the people to progress and achieve in sustainable ways. As a new member of the YCAB family, SAE LAO Project took the opportunity to engage in the different activities and come to understand the missions and methods of YCAB as well as the fellow organisations participating. What was taken away from the weekend was an invaluable and knowledgable experience amongst new, inspiring friends!
Read more about the 1st Partners' Gathering on the YCAB website.