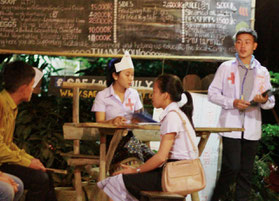 On the 11th and 12th of February the drama night took place at SAE LAO and it was a huge success! 
The level 3 students performed plays that were well received by all. Level 5 assisted with introductions and Yee Lee from Level 5 performed two songs, one in Chinese and one in English.
The plays:
The Pied Piper and Stone Soup, two traditional stories adapted by the students for Lao.
Drug Bust and Soupsala Social, two plays written by the students and translated and adapted by Zoe Michal, our former Education Coordinator.
All thirty eight students were spectacular. We are incredibly proud and hope to do further productions in the future.