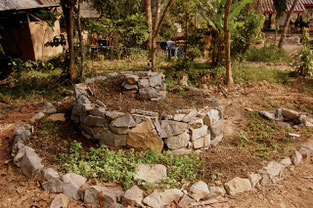 The past 3 months have seen huge leaps and bounds in environmental work at SAE LAO.
Robin Zuber has helped us to set up the start of a mushroom farm, a herb spiral and improved compost systems.
Howard Storey from Permaculture Research Institute, taught a two week Permaculture Design Certificate Course at SAE LAO in January that was a fantastic and informative learning experience for the staff and course participants. We are very much looking forward to implementing some of the things that we learned over the coming year.
Our gardens have been expanding, our first biosand filters are in for grey water cleansing and we are expecting our first crop of mushrooms in the next week.
Finally we have also been working on more natural building, with workshops and the start  of our new kitchen for the restaurant, starting  with cob and recycled glass bottles.