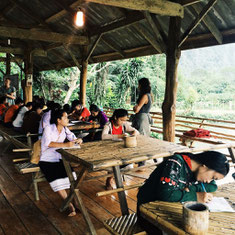 A new school year has started!
Prior to registration week (starting on the 31st of August) we did a lot of promotion for the free English classes with local children, mostly in Nathong Village. Due to this we had a huge number of students turn-up, almost triple that of previous years!
To accommodate all these potential long-term students, we decided to add two teaching hours, equalling four hours of teaching per day. It is a lot but we are so excited to have such an interest this year and we're dedicated to ensuring all students receive an even higher quality of education than previous years due to our new programmes, introduction of I.T. classes and Public Speaking classes for all levels.